Jurassic World: Dominion Dominates Fandom Wikis - The Loop
Play Sound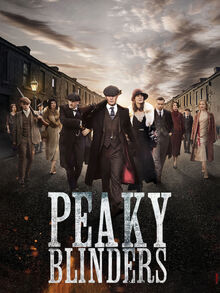 Series 4 is the fourth series of Peaky Blinders. It aired on BBC Two on 15 November, 2017 and ran for six episodes. It is preceded by Series 3 and followed by Series 5.
Summary
After their arrests in the third season, Polly, Arthur and Michael spent six months in prison. They were finally out. However, the family was fragmented. Michael returned to work for the Shelby Company, but John and Arthur bought country houses and tried to live quiet lives, and Polly was haunted by the spirits of the dead.
At Christmas 1925, the Shelby family received a mysterious letter, and Tommy understood they were all in danger. Luca Changretta came from New York to avenge his father's death.
The Shelby family gathered in Small Heath, in Birmingham. All of them will have to put aside their dispute to fight together for their survival.
Cast
Episode List
Image
Title
Number
Airdate
UK viewers
 

(millions)

The Noose
4.1
15 November 2017
3.44
It is Christmas and Tommy Shelby receives a letter that makes him realise that he and every member of the family are in danger. He knows that it is time for the family to bury their differences and face the enemy together.

Heathens
4.2
22 November 2017
3.31
As the Shelbys come to terms with shocking events, Tommy makes a decision he may come to regret. Meanwhile, a bold new enemy makes his move.

Blackbird
4.3
29 November 2017
3.43
Luca Changretta understands the complexity of his enemy, as the weight of gypsy tradition hangs upon Arthur. But could there be a traitor within the Peaky Blinders' midst?

Dangerous
4.4
6 December 2017
3.17
In a daring cat and mouse chase, will Tommy be outwitted by his enemies? And with the return of an old friend, Tommy tries to distract himself with other pursuits.

The Duel
4.5
13 December 2017
3.16
Tommy prepares himself as the bloody battle lines are drawn between the Peaky Blinders and Changretta. A deal is struck - with potentially devastating consequences.

The Company
4.6
20 December 2017
3.56
It is the night of the big fight - Bonnie Gold versus Goliath. But as the bell rings and the crowd goes wild, dangers lurk in the shadows for Thomas Shelby and his family. When Luca Changretta plays his final ace, he sets in motion a series of events that will change the Peaky Blinders forever.
Marketing
Trailers
References