Anna Gray was the daughter of Polly Shelby and Mr. Gray. She was taken away from her mother by the parish authorities. She's never met her mother again and died in Australia.
Character History
According to an anecdote by Polly in 1922, Anna would have been eighteen that year making her birth year 1906 on May 15. Having been taken away from Polly alongside her brother Michael Gray, the siblings were separated. She was originally put with a family in Stafford with a station master as adopted father. However, she kept trying to run away, even trying to reach Birmingham by train.
She was eventually sent to Australia where she supposedly died of "Spring Fever", a mosquito-borne illness with symptoms akin to influenza and arthritis. Her body's buried there.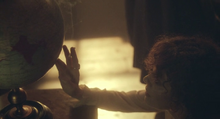 In 1922 Polly, her mother, kept having a dream about Anna as a girl with dark eyes told her that she's passed. over. Polly believes that when she was inside the noose, she saw spirits and her second sight came back. She says she saw Anna's spirit and hope living with her son and her dead daughter in Australia.
Trivia
In season 1 Anna is referred to as Sally when Polly recounts the story of how the kids were taken away from her to Ada Shelby. She says "Sally was three, Michael was five, well, two weeks away from being six."